Scolio-Pilates®: Where There's a Lot of Hope for Scoliosis
Young or mature, braced or unbraced, fused or unfused, We know you are stronger than scoliosis, and we are here to help you prove it.
MORE MOVEMENT
Let's use evidence-based Scolio-Pilates to reach your spine towards a longer, taller you!. Your new-found length will ease compression and you'll see just how much easier it is to move!
LESS PAIN
Ease the stiffness and rotations of your spine to re-discover movement. You'll be using our scoliosis-specific exercises and Scolio-Wedges to move your graceful curves a bit closer to center.
GET STRONGER
First you lengthened, then you eased the rotations. Now, with your new-found alignment so that your spine can live in it's new position – you are creating a neuro-muscular new normal!
What is Scolio-Pilates?
Scolio-Pilates is a three-dimensional scoliosis-specific exercise program that will put you in control of your scoliosis. It is an easy and accessible scoliosis exercise program for managing scoliosis at home or in a professional setting.
With Scolio-Pilates, you will learn a tailored program for managing your scoliosis using these techniques:
Elongate: Lengthen the spine towards neutral.
Corrective Breathing Techniques: Open up areas of the ribs and lungs that are constrained due to the scoliosis.
Correct the rotation: Using wedges to assist the spine towards neutral.
Strengthening: Maintain alignment and gain ease of movement to increase function in all your life's passions.
.
Learn more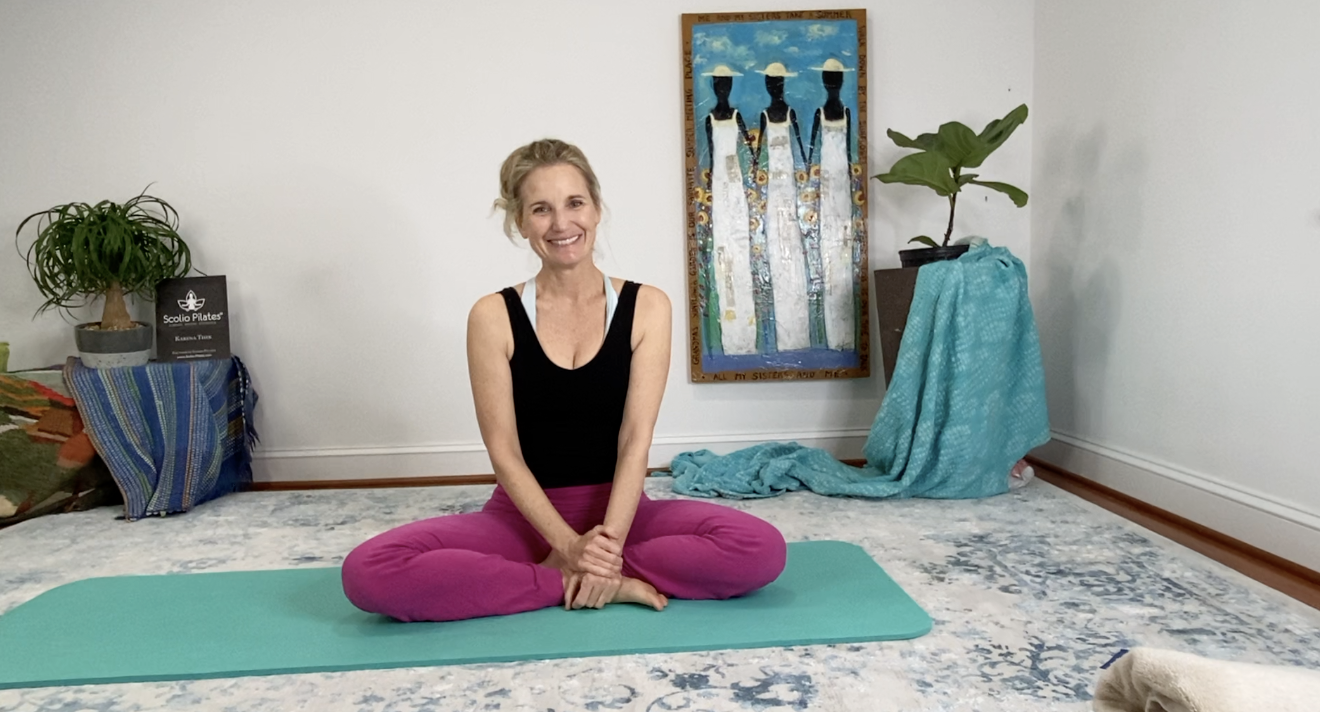 Karena Thek, Founder of Scolio-Pilates
Proud owner of a 3-Curve Scoliosis
We can help you Really Live with Scoliosis
Scolio-Pilates on Demand
With your Scolio-Pilates On Demand subscription, you will have access live classes and over 100 full-length scoliosis exercise classes as well as over 20 short 5-minute exercises to do anytime you need a pick-me-up.
Work with a practitioner
Become an Instructor
We provide a training and authorization program to help you manage your scoliosis patients and clients with scoliosis. We have over 60 practitioners worldwide. Visit our practitioner's page to learn more.
There is a lot of hope for scoliosis. If you've been told there is nothing you can do, well, that's one point of view. But there are more! Clearly you are a pro-active person or you would have never found our little website. 😊 So let's put your strong "Pro-Activity" to good use.
We welcome you to our 20+ years of experience. You can work with us privately, read our books on scoliosis-specific exercise or even go to Scolio-School! However you'd like to learn about your spine, we are standing right beside you.
We understand scoliosis pain and frustration. We've been there ourselves. That's why it feels so good to tell you that there is hope. You can do this. And we've got your back.
Meet some people who were just like you…
I am doing great, I am diligently doing my exercises and since seeing you I haven't had any major back pain, only a couple of tweaks that were gone within minutes after I realigned myself using the Scolio-Pilates homework you gave me. – Nisreen W
Please accept my thanks for [Module 2 Teacher Training] and for your open way of presenting. I appreciate all that you do for those of us who have the privilege of working with these beautiful spines 🙂 – Wendy N
Just wanted to say thank you again for your work with H this week at the camp. The Scolio-Pilates exercises you have taught her have been life-changing. I am very grateful to you for investing in her. – Julie B
Home